Trio of Treats by Atmantan Wellness Resort
23 June 2017

23 June 2017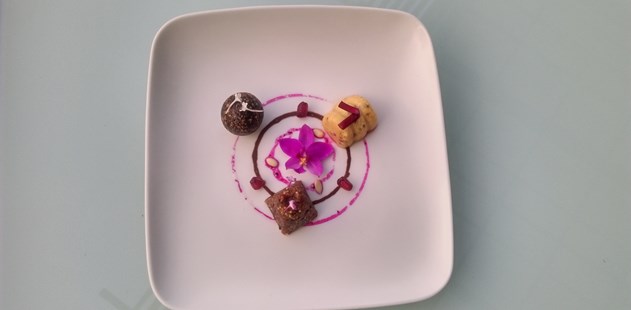 This tantalizing trio of treats recipe from Atmantan Wellness Resort is the perfect assortment of healthy finger food just in time for Summer. The citrus corn balls will delight your palate with a zesty taste, while the chia and poppy seeds will provide a delightful crunch. Then indulge in the nut and fig dumplings, that create a sweet sensation from the burst of honey and fresh figs, followed by a prune and wheat flake dumpling, a juicy raw treat molded with wheat flakes and almonds to create a soft, light texture.


INGREDIENTS
1 tsp poppy seeds

10 g flax meal

100 g corn

150 g honey

60 ml lemon juice

10 g chia seeds

1 tsp melon seeds

15 g almond powder

80 g cashew nuts

100 g almonds

50 g walnuts 

100 g figs

150 prunes

60 g wheat flakes


METHOD
1. To make citrus corn balls, take poppy seeds, flex meal, corn chopped finely, honey, lemon juice chia seeds, melon seeds and almond powder all in the bowl and mix well and mould into small balls.

2. To make nuts and figs dumplings, roughly cut cashew nuts almonds walnuts figs and mix well. Then add honey to mould into dumplings.

3. To make prunes and wheat flakes dumpling add prunes wheat flakes and chopped almonds, mix well and mould into dumplings.

4. Garnish and serve.
If you would like to book a holiday at Atmantan Wellness Resort, talk to one of our Travel Specialists on 0203 397 8891 or contact us here.