Stuffed Courgette Ravioli with Roasted Cherry Tomatoes by Glass House Detox Retreat
21 October 2020

21 October 2020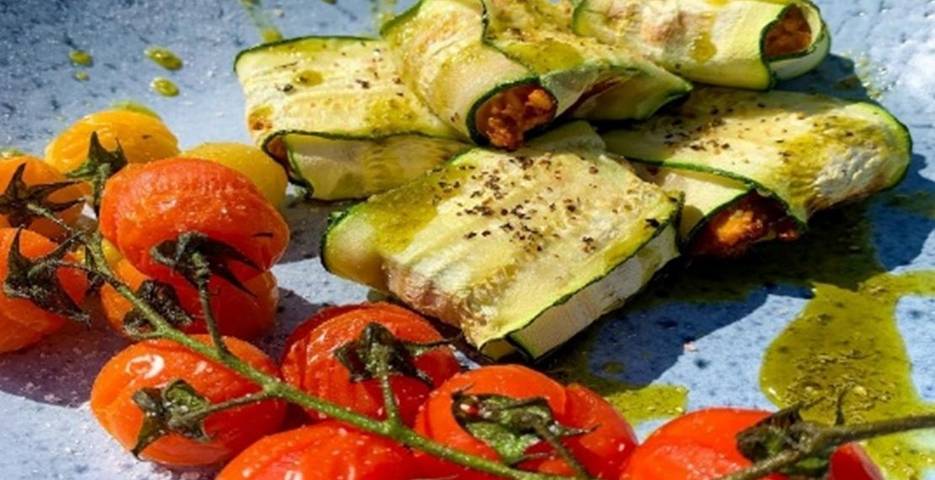 Glass House Retreat's stuffed courgette ravioli is a light, vegetarian twist on the Italian classic. This new ravioli is rich in taste and high in essential vitamins and nutrients. Its low carbohydrate content makes it the perfect dish for a sunny, al fresco dining experience. Try this fresh take on stuffed ravioli for one and you'll never go back to the original.
Ingredients
2 long strips of courgette for the ravioli
1 cup of sundried tomatoes
1/5 cup of olive oil
1 diced garlic clove
20g of diced basil
50g of cashew nuts
1 teaspoon of Himalayan salt
250g of cherry tomatoes
Method
Preheat the oven to 165°

Add all ingredients, minus the courgette and cherry tomatoes, into a food processer and blend until smooth in texture.

Place in a bowl to the side for the time being.

Cut the courgette into long strips.

Place one strip on top of the other to make a cross.

Place the blended pesto right in the middle of the cross. Fold the ends in to the middle and turn the ravioli upside down.

Place the ravioli on to a baking tray and put it in the oven for 10 minutes.

While your ravioli is cooking, put your cherry tomatoes in a roasting tray with a drizzle of olive oil and a pinch of salt.

Place the tomatoes in the oven for 5 minutes.

After both the ravioli and the cherry tomatoes have crisped up, serve and enjoy!
If you would like to book a holiday at Glass House Detox Retreat, talk to one of our Travel Specialists on 0203 397 8891 or contact us here.