Raw Dark Chocolate Tart - by Amatara Wellness Resort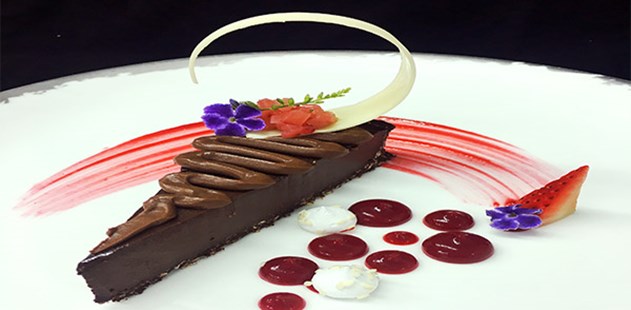 The perfect treat for the health-conscious dessert fan, this raw dark chocolate tart from Amatara Wellness Resortin Thailand is the ultimate non-guilty pleasure. This healthy dessert is gluten-free, by using almond flour instead of wheat flour, and is completely free of refined sugar, thanks to a coconut nectar substitution. The delicious raspberry gel provides the perfect combination of sweet and sour to offset the bitterness of the cacao. An indulgent treat that is simple to prepare, guaranteed to satisfy even the most insatiable sweet tooth.


INGREDIENTS
Tart Shell:
300 g stone ground oats                
300 g almond flour          
60 g cacao powder          
100 g coconut nectar or agave nectar
100 g water        
Pinch of salt  

Chocolate filling: 
200 g cashew nut soaks 
80 g water
80 g coconut nectar or agave nectar
65 g cold pressed coconut oil      
50 g cocoa powder          
3 g organic coffee powder           
Pinch of salt and vanilla

Raspberry gel:
450 g raspberry puree
50 g coconut nectar
5 g agar agar


METHOD
1. Place the oats, almonds and cocoa powder into your food processor. Pulse for a few seconds

2. Add the coconut nectar, water and a pinch of salt. Pulse until the mixture is combined

3. Take the mixture out of the bowl and place on a silicone mat or wax paper. Place another mat on top and roll flat (about 5cm thick). Lift up your dough and carefully place it into your tart shell

4. Push down on the base and carefully around the sides making sure that it is evenly spread out

5. Take a knife and cut around the edges to get a nice even finish. Place in the fridge to chill while you prepare the filling

6. Soak cashew nuts in filtered water for around 2 hours. Once soaked, drain and place the nuts into the blender with 80 grams of water. Blend on high until smooth. Now add the rest of the ingredients and blend until the mixture is smooth

7. Take out your tart shell and pour your mixture into it. Place the tart into the freezer

8. Place the raspberry puree, nectar and agar in a small sauce pan

9. Mix well and then bring up to a boil. Let it boil for 30 seconds and then take off the heat

10. Place the mixture into a container and let it set in the fridge

11. Once set, remove from the container and place in a blender. Blend on high until nice and smooth

12. To serve, place a small dollop of raspberry puree on or plate and using the back of a spoon; push the gel across the plate to get that gourmet finish

13. Place your chocolate tart on the top and decorate with some chocolate décor or some fresh raspberries.
If you would like to book a holiday at Amatara Wellness Resort, talk to one of our Travel Specialists on 0203 397 8891 or contact us here.