Warm Fennel Salad by Kamalaya
12 July 2017

12 July 2017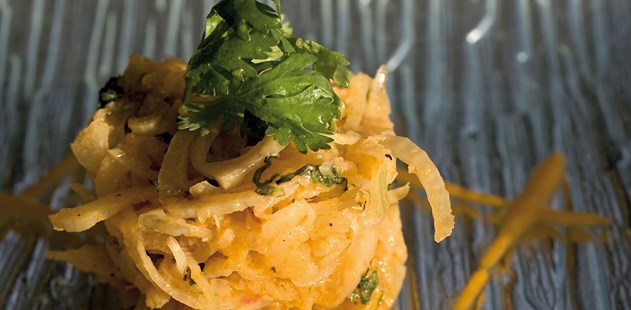 Kamalaya's warm fennel salad is the perfect light lunch on a warm Summer's day. The aromatic herb itself lets off a mild liquorice flavour which is tamed by the sweetness of the coconut water, papaya, mint, and refreshing tang from the lime juice. Reap the health benefits from fennel with its high fibre, potassium and vitamin C and B-6 content which will leave you feeling fuller for longer.


INGREDIENTS

200 g fennel, thinly sliced 

Sea salt

Black pepper

10 ml vegetable stock

5 g mint leaf, sliced

Papaya Dressing:
80 ml coconut water

50 ml vegetable stock

180 g ripe papaya

25 ml lime juice

Sea salt

30 ml virgin olive oil


METHOD
1. Begin by preparing the Papaya Dressing. Place all ingredients except the olive oil into a blender. Blend on medium speed for about 30 seconds. Turn blender to lowest speed and very slowly pour in the olive oil until it emulsifies. This should take about 10 seconds. Be careful to add the oil very slowly, otherwise the dressing will separate.
2. Heat up 2/3 of the Papaya Dressing in a frying pan. Add the sliced fennel and stir well. Season with sea salt and black pepper. Continue cooking on a low heat for about 40 seconds. You want the fennel to be softened but still al dente. If the dressing reduces too much, simply add a little 
of the vegetable stock.
3. To serve, place and drizzle with the remaining 1/3 of the warm papaya dressing and top with sliced mint leaf.
If you would like to book a holiday at Kamalaya, talk to one of our Travel Specialists on 0203 397 8891 or contact us here.