Summer Rolls by Amatara Wellness Resort
07 July 2017

07 July 2017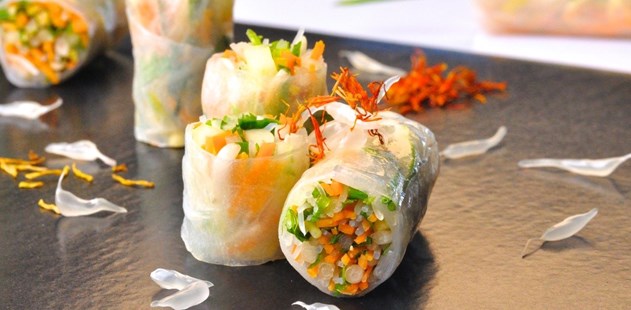 Want some healthy Asian snack inspiration? Amatara Wellness Resort's Summer Rolls are the perfect light substitute to the classic deep-fried version. Rolled in delicate rice paper sheets and stuffed with Vermicelli noodles (containing 0 grams of fat) bean sprouts, carrot, cucumber and coriander sprigs, these nutritious rolls create the perfect refreshing crunch with the mix of vegetables bursting with flavour. The ginger and ginseng dressing compliments and finishes the dish, creating an exquisite, aromatic combination of Asian flavours.


INGREDIENTS 
50 g Vermicelli noodles

12 rice paper sheets

100 g bean sprouts

100 g carrot, cut into matchsticks

100 g cucumber, cut into matchsticks

5 g mint leaves

5 g coriander sprigs

5 g garlic chives

1 fresh yuzu

50 ml Ginger & Ginseng Dressing


Ginger & Ginseng Dressing/Dipping Sauce:
5 g ginger
200 ml ginseng tea
5 g miso paste
20 ml sweet chili sauce
2 g white sesame seeds
10 g peanut butter
5 g garlic, finely chopped
5 g coriander
5 ml soya sauce
1 lemon, juiced
2 g black pepper


METHOD
1. Place the noodles in a heatproof bowl and cover with boiling water. Set aside for 5 minutes to soften. Drain.

2. Soak 1 rice paper sheet in warm water for 30 seconds or until soft (don't soak the sheet for too long or it will tear)

3. Drain on paper towel. Place on a clean work surface.

4. Lay down a little of the noodles, bean sprouts, carrot and cucumber onto the softened rice paper.

5. Drizzle with a little Ginger & Ginseng dressing.

6. Top with 1 mint leaf and 1 coriander sprig.

7. Fold in ends and top with 1 garlic chive and roll up firmly to enclose filling.

8. Break up the yuzu segments and use the pods for garnish on the plate.

9. Serve with the dipping sauce on the side.


If you would like to book a holiday at Amatara Wellness Resort, talk to one of our Travel Specialists on 0203 397 8891 or contact us here.