Mango, Lime & Coconut Tartlets by Fusion Maia
02 June 2017

02 June 2017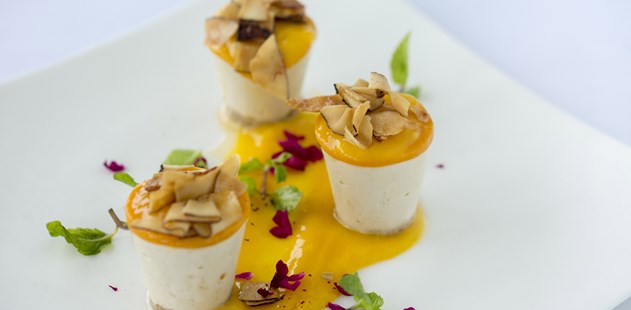 Need something to satisfy your sweet tooth, without feeling guilty? These mango, lime and coconut tartlets from Fusion Maia make for the perfect treat that you can whip up in minutes. This raw dessert is made gluten-free by substituting flour for shredded coconut, with a succulent sweetness that is free of refined sugar thanks to dates and coconut cream. Finished with pineapple and mango chunks to give this healthy dessert a tropical fresh taste that is guaranteed to leave you wanting more.


INGREDIENTS
Base:
1/2 cup shredded coconut
1/2 cup oats
1 1/2 cup of almonds, soaked in water
1/2 cup of dates, soaked in water   

Filling: 
1 1/2 cup of cashew nuts, soaked
1/2 cup of coconut cream
1/2 cup of coconut milk
1/2 cup of coconut oil
4 tbsp coconut palm sugar 

Glaze:
25g pineapple chunks
25g mango chunks
30g fresh coconut flesh
12 ml fresh coconut water
Small piece fresh tumeric or 1/8 tumeric powder (although fresh is best!)


METHOD
1. Drain the dates and almonds, then place in food processor and pulse until thoroughly crushed

2. Add the shredded coconut and oats. Blend until the mixture comes together

3. Press the dough base into small molding cups 

4. Place all the filling ingredients in a blender and blend until smooth and creamy

5. Pour the mixture over the base 

6. Prepare the glaze; place all ingredients in blender and blend until smooth and creamy

7. Pour the glaze mix over the top as needed and swirl slightly. Keep the remaining to garnish plate

8. Place in freezer until frozen

9. Serve with crispy coconut flakes, fresh mint and dried rose buds


If you would like to book a holiday at Fusion Maia, talk to one of our Travel Specialists on 0203 397 8891 or contact us here.