Jewel Millet Rice Salad by Thanyapura
17 November 2017

17 November 2017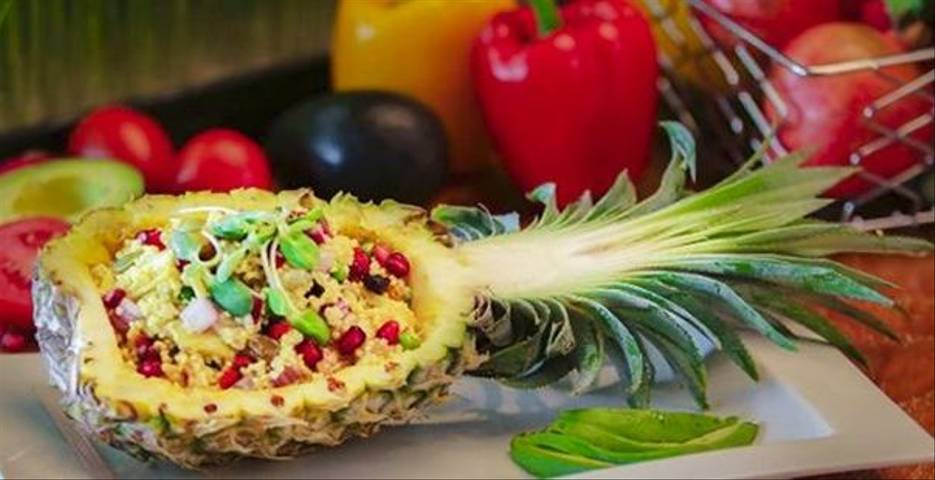 Known for its exotic flavours and tasty food combinations, Thai cuisine has massively influenced western dining during recent years. The chefs at Thanyapura have aimed to incorporate traditional Asian flavours in this sweet and sour dish. Aside from its creative, spectacular presentation in a hollowed-out pineapple, this recipe contains a myriad of nutritional benefits. The main ingredient millet is considered a 'super seed', helping to reduce the risk of cancer, detoxify the body and improve digestion. Colourful toppings, such as goji berries and pumpkin seeds, help to provide vitamins and minerals needed for a healthy functioning body. This tasty dish is sure to leave you feeling refreshed and satisfied.


Serves 4


INGREDIENTS
1 large pineapple (cut in half and flesh scooped out)


For the salad:

200g millet
50g white raisins
50g black raisins
2 tsp pumpkin seeds
2 tsp goji berries
200g green snow peas
1 pomegranate
1 red onion
1 lemon
1 avocado
1 tsp turmeric
1 tsp curry powder
1 tsp cayenne
1 tsp saffron
1 tbsp salt
½ tbsp black pepper


For the dressing:

1/2 cup hulled hemp seeds
½ cup water
2 tablespoons nutritional yeast
2 tablespoons fresh lime juice
1 clove garlic, peeled
¼ teaspoon sea salt, to taste
Sunflower sprouts to garnish


METHOD
1. To prepare the dressing, add all ingredients into a high-speed blender and blend on high until smooth. Adjust salt to taste. The dressing will appear thin at first, but it thickens up after being chilled in the fridge. 

2. In a big pot, add the millet with double the amount of water and bring to a boil. Then turn down the stove to medium heat and let it simmer for ten minutes.
3. Chop the red onion and add it into the pot, together with the snow peas. Cook for another five minutes. Remove the pot from the stove and stir in the spices and lemon juice.
4. Peel the avocado and cut it into cubes, then pull out the seeds of the pomegranate. 
Add the pineapple flesh, avocado and both sorts of raisins into the millet salad, then transfer everything into the pineapple halves.


SERVING THE DISH
Sprinkle over goji berries, pumpkin seeds and pomegranate seeds over the salad. Take the dressing out of the fridge and drizzle over the salad.
If you would like to book a holiday at Thanyapura, talk to one of our Travel Specialists on 0203 397 8891 or contact us here.