Cucumber and Wakame Seaweed Salad by SHA Wellness Clinic
14 July 2017

14 July 2017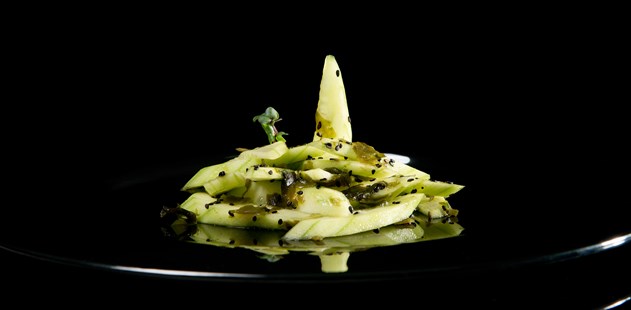 Innovative cuisine by SHA Wellness Clinic, this refreshing and vibrant dish is perfect for a light lunch or summer side salad. Not simply is it pleasing on the palette, the ingredients are carefully selected for their impressive array of health benefits. Cucumbers keep you hydrated, aid weight-loss and help flush out toxins, whereas wakame helps with mineral transport in the body and the production of proteins. So, sit back, tuck in, and enjoy.


INGREDIENTS
600g cucumbers

30g wakame seaweed 

10g black sesame seeds 

40g barley miso

1 x orange


METHOD
Preparation:  

1. Soak the wakame seaweed for 5 minutes and drain. Peel the cucumbers and cut in half; cut the cucumbers thickly à la julienne obliquely so that they appear to be half moons. Set aside. Roast the sesame seeds on a baking tray in the oven for 3 minutes at 180o C/350o F, remove and let cool.

2. Put the sesame seeds in a suribachi mortar and crush coarsely with a surikogi pestle; add the miso (which has previously been dissolved in a bit of hot water) and stir. Squeeze the orange and add the juice to the suribachi, continue stirring until the sauce is blended.
Serving: 

Place the cucumbers in a bowl along with the wakame seaweed, add the sauce from the suribachi and stir so that the cucumber is well coated. Serve on a black plate forming a tower. 

Suggestions:
The aim in this dish is to pickle the cucumber. Another way to quickly pickle the cucumber is to macerate it with a bit of salt and later add a bit of lemon, apple vinegar and a few drops of toasted sesame oil. 
If you would like to book a holiday at SHA Wellness Clinic, talk to one of our Travel Specialists on 0203 397 8891 or contact us here.