Crispy Potato Napoleon by the Farm at San Benito
20 October 2017

20 October 2017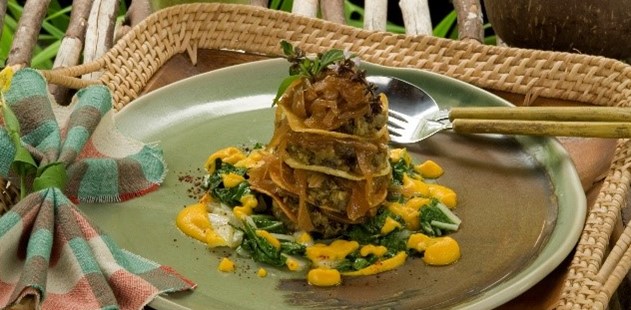 Try this decadent Crispy Potato Napoleon from The Farm at San Benito, featuring crunchy, fresh vegetables and rich flavours. This healthy, nutrient-dense dish provides a combination of textures, thanks to the crispy potatoes and creamy, flavourful aubergine atop a bed of greens. All of this is topped with a fine pumpkin ginger sauce, beneficial in reducing inflammation in the body. A delicious vegan recipe, perfect for when you want to reward yourself with a warming, hearty meal full of nutrients.


INGREDIENTS

3 big potatoes, peeled and sliced on a mandolin, dip fried in 1 cup coconut or olive oil until crunchy


For the eggplant:

6 eggplants, peeled and cut into cubes
2 tsp garlic, finely minced
1 tsp sea salt and ½ tsp black pepper
1 tsp olive oil
1 tsp tamari or shoyu
1 tsp balsamic vinegar
2 sweet potatoes, peeled and chopped


For stir fried greens with sesame:

1 head Chinese cabbage, chopped
2 head pechay, chopped
1 bunch ferns, chopped
1 tsp garlic
1 tsp onion
1 tsp coconut oil
1 tsp sea salt and ½ tsp black pepper
1 tsp sesame seeds


For Sauce:

1 tsp olive oil
1 cup onions
1 tsp garlic, minced
2 cups squash, cut into cubes
1 cup carrots, cut into cubes
6 cups vegetable stock
½ Chinese five spice powder
¼ cup rice wine
1 tsp toasted sesame butter
1 tsp sea salt and ½ tsp black pepper
½ tsp cayenne


For onions:

2 cups onions, julienned
4 tsp muscovado syrup
1 tsp olive oil


For Assembly:

Basil flowers and sprinkle with paprika


METHOD
For the sauce, heat the olive oil in a pan, sauté onions, garlic, ginger, squash and carrots. Add the stock and simmer until vegetables are tender. Add the rest of the ingredients and turn off the heat. Transfer it to a blender and blend until it becomes a puree consistency.
For the eggplant filling, mix the eggplant, garlic, salt, black pepper and olive oil in a big bowl.
Place the eggplant mixture and the sweet potato in two separate baking trays and bake them for 5 to 10 minutes at 180C.
Transfer the sweet potato to a food processor and process it until mashed. Put the eggplant mixture in a food processor, add tamari or shoyu and balsamic vinegar. Process until finely ground. In a bowl mix the sweet potato with the eggplant mixture.
For the greens, sauté the onions and garlic in coconut oil, then add the cabbages and ferns. Add sea salt and black pepper. Mix and cook it for two minutes. Then sprinkle it with sesame seeds.
For the caramelized onions, sauté the onions in olive oil until they become clear, then add shoyu, muscovado syrup and the balsamic vinegar. Caramelize them for 3 to 5 minutes.


SERVING THE DISH
Place the greens on a plate and top it with alternate layers of crunchy potatoes, the filling and the caramelized onions. Drizzle with sauce and garnish with basil flower and a sprinkle of paprika.
If you would like to book a healthy holiday, talk to one of our Travel Specialists on 0203 397 8891 or contact us here.