Watercress and Potato Soup by Shanti Maurice
10 November 2017

10 November 2017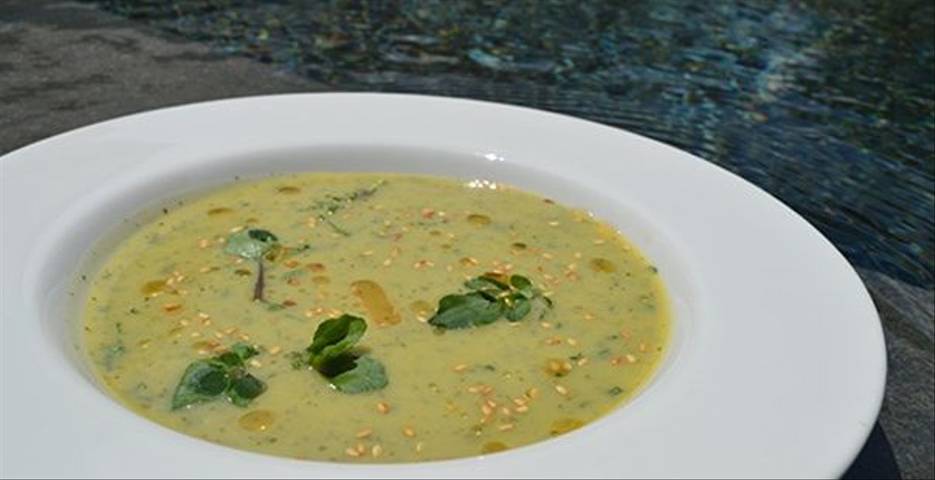 Even though cold, rainy days in Mauritius are non-existent, the chefs at Shanti Maurice still give you the opportunity to enjoy a hot, warming soup, whether at the retreat or back home. This hearty stew demonstrates that comfort food doesn't always have to be unhealthy. The potato and sesame seeds will help you feel fuller for longer, whilst the ginger adds a nice, spicy note to the dish, whilst helping to reduce inflammation and warm your body from the inside out.


INGREDIENTS
600g potato (peeled and cut into cubes)
200g watercress (washed and chopped)
100 g onion (peeled and chopped)
100 g garlic (peeled and chopped)
20g ginger (peeled and chopped)
50ml sesame oil
1 l water or vegetable stock
1 tbs sesame oil for garnish
1 tbs toasted sesame seed for garnish
Lemon juice (up to your liking)
Salt and pepper to season 


METHOD
1. In a pan, heat the sesame oil to prepare the sautéed onion with ginger and garlic. Cook until the onions are softened, then add the potato cubes in and leave it to be cooked for 10 minutes.

2. Add 1 litre of water or vegetable stock and let it simmer for 15 minutes. Season to taste and add the chopped watercress into the mixture. This will take 10 minutes more to be cooked.
3. Then remove the pan from the stove, use a food processor (blender) to blend into soup and strain the broth through a sieve. Bring back to the pan on the stove.
4. Add the lemon juice, adjust the seasoning.


SERVING THE DISH
Drizzle over some sesame oil and garnish with the toasted sesame seeds. Serve hot.
If you would like to book a holiday at Shanti Maurice, talk to one of our Travel Specialists on 0203 397 8891 or contact us here.