Sweet and Salty Cookie Dough Balls by Marbella Club
16 June 2017

16 June 2017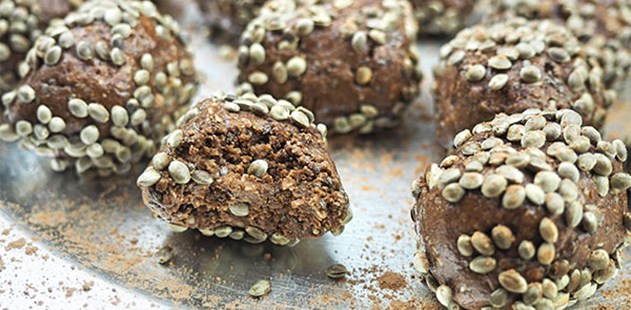 Short on time and bored of the old cupboard snacks? Marbella Club has come up with the perfect healthy delicious treat. These non-bake balls of joy will first create a chocolatey sensation on your palate from the rich organic cacao powder, before the mild aromatic tang of turmeric and cinnamon kick in creating the perfect spicy-sweet combo. The added crunch from the toasted salted hemp seed coating gives this succulent snack its addictive taste. A great on-the-go healthy snack, which can be enjoyed pre- or post-workout.


INGREDIENTS
60 g ground almonds 

65 g unsweetened peanut butter

1 tsp cinnamon

2 tbsp chia seeds

½ tsp turmeric

10 g organic cacao powder

40 g oats

2 tsp honey or another sweetener 

1 tsp extra virgin organic coconut oil

For coating:

5 g raw organic cacao powder

1 tbsp toasted salted hemp seeds


METHOD
1. Add all ingredients in a food processor and mix until combined. 

2. Use your hands to roll into balls and dust them with cocoa powder

3. Roll in the hemp seeds on a plate.

4.  Let them sit in the fridge for 30 minutes before serving. Store in the fridge for up to one week in an airtight container.
If you would like to book a holiday at Marbella Club, talk to one of our Travel Specialists on 0203 397 8891 or contact us here.