Raw Carrot Cake by Phuket Cleanse
09 June 2017

09 June 2017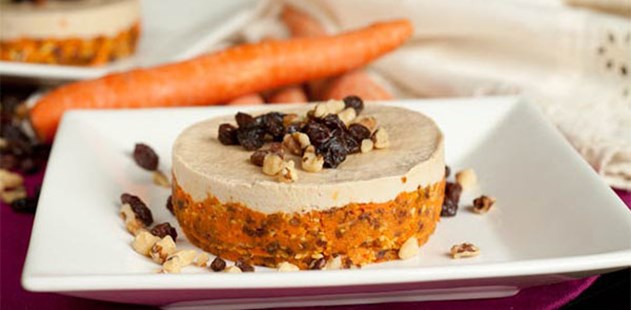 Phuket Cleanse's raw carrot cake is the perfect healthy treat for an evening with friends, or for those looking to try an English classic with a twist! It gets it's "raw" name due to the substituted ingredients that don't need to be baked, giving it a fresher, healthier taste. The mix of raisins, carrots, dates and figs create a fruitful flavour, with the coconut oil and flour giving it a light finish. The velvety cashew filling gives this creative recipe a moist and satisfying taste that will leave you wanting more.


INGREDIENTS
The juice and pulp of 4 carrots

1 x cup coconut flour 

The flesh and a couple of slices of the zest from 1 orange 

5 x figs 

10 x dates 

1 cup raisins 

2 cups cashews 

1 cup coconut oil 

2 tbsp. cinnamon 

1 cup coconut milk


METHOD
For the 'cake':  

1. Soak the cashews, dates, figs, and raisins for a minimum of 2 hours. 

2. In a food processor, blend the carrots, coconut flour, figs, raisins and cinnamon. While it's blending, slowly add a little carrot juice until the mixture is moist. (You still want it to be quite firm for moulding, so don't add too much carrot juice!

For the cashew filling: 

1. In a blender, add dates, cashews, coconut milk, coconut nectar & coconut oil, and blend until smooth. 

Assembly: 

1. Mould the cake mixture into a circular base level, then add some cashew filling on top, followed by another layer of the carrot base and a final layer of the cashew cream

2. Decorate with goji berries and raisins


If you would like to book a holiday at Phuket Cleanse, talk to one of our Travel Specialists on 0203 397 8891 or contact us here.