Courgette Spaghetti with Pesto Sauce by Marbella Club
27 October 2017

27 October 2017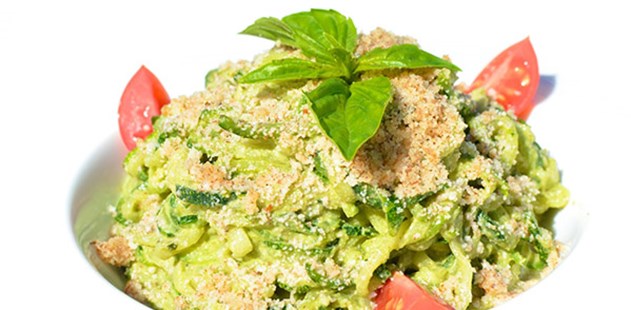 The cuisine at Marbella Club focuses on nutritious, healthy meals that are perfectly light for a warm summer's day on Spain's south coast. This delicious 'pasta' dish does not contain any gluten or refined grains, thanks to the 'courgetti', making it suitable for those with a gluten intolerance or following a low carb diet. This completely vegan dish is bursting with nutrients, thanks to the raw courgettes, nuts, and plant-based parmesan alternative. This recipe is perfect for a fresh summer lunch and offers a great alternative to traditional pasta dishes.

Serves 2
INGREDIENTS
2 large courgettes 

4 cups basil leaves, packed 

2 cups spinach 

½ cup walnuts 

½ cup brazil nuts 

¼ cup olive oil (not extra virgin, as too strong in flavour) 

¼ cup water 

4 cloves garlic 

4 tablespoons lemon juice 

Handful alfalfa sprouts (as decoration)


Almond Parmesan 

Makes 1 pot 

1 cup raw almonds 

2 tablespoons nutritional yeast 

1 tsp garlic powder 

½ tsp sea salt 


METHOD

1. Cut the courgettes in long strings or use a spiralizer. Add salt and let them rest for 30 minutes. Drain the water off them and set aside. 

2. In a blender, place the basil, spinach, walnuts, brazil nuts, olive oil, garlic and lemon juice. Mix before setting aside.

3. For the almond parmesan, place all ingredients in a blender and process until your desired consistency.


SERVING THE DISH
Serve courgette spaghetti with pesto and sprinkle almond parmesan on top. You may add alfalfa sprouts as decoration. 
If you would like to book a holiday at Marbella Club, talk to one of our Travel Specialists on 0203 397 8891 or contact us here.